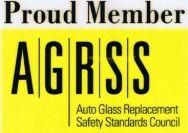 Yes, your new windshield has a safe drive away time!
The urethane adhesive used to install modern windshields utilizes a temperature and humidity catalyst.  Your technician will inform you of your safe drive away time (usually between one and four hours).

The glass in a vehicle is considered a very important safety device.  No longer is it designed just to keep occupants within the vehicle during a crash.  Like an eggshell, the windshield is part of the exterior shell of the vehicle that absorbs and dissipates the "crash pulse" of an impact.  Any failure of the shell may cause other safety devices to operate improperly and could lead to catastophic effects.